Brilliant Earth Launches Moyo Gems Collection
The e-tailer is giving the colored stones in the mine-to-market initiative its largest platform yet.
San Francisco—Brilliant Earth is collaborating with Moyo Gems to offer a colored gemstone collection that can be traced from the mine, and woman miner, to market. 
The e-commerce giant now offers select gems from the initiative to be at the center of a custom piece for its customers. 
Moyo Gemstones—so named because it means positive things in several different African languages—
launched its pilot program in early 2019
to help women miners from Tanzania work safer, mine better, improve financial security and create equitable markets for their gems.
It's a collaborative effort among several companies: non-governmental organization
Pact
, Monica Stephenson's Anza Gems, gemstone wholesaler Nineteen48, and blockchain platform Everledger. 
At its core is also the Tanzania Women Miners Association (TAWOMA), which provides the female miners GIA education, Occupational Health and Safety Training, and business promotion. 


 Related stories will be right here … 
They started offering their gemstones through the Moyo initiative officially
in late 2019
through Anza Gems and Nineteen48. 
Now, the
Brilliant Earth x Moyo Gems
collection expands on those foundations, offering roughly 15-20 Moyo gemstones, including garnets, sapphires, tourmaline, rhodolite garnet, and more, in a variety of colors. 
Cristina Villegas, director of Mines to Markets at Pact, said: "When Pact, Anza Gems, Nineteen48, and TAWOMA first imagined Moyo Gems, never in our wildest dreams did we imagine the immediate embrace that we received from different corners of this industry. First, it was the small designers and makers, and now, we're so honored to have Moyo Gems in a collection by Brilliant Earth."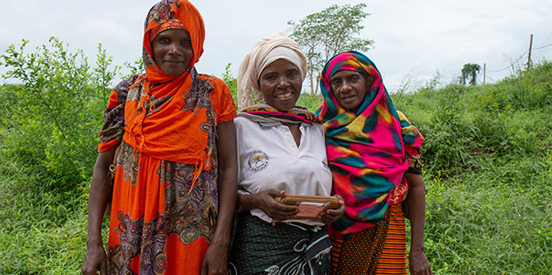 Prices for the loose stones in the collection range from $1,190 to $4,490 at retail.
Shoppers can either buy them alone or use the stones as a starting point to create the piece of their dreams, selecting the setting style and metal of their choice. 
Kathryn Money, Brilliant Earth's senior vice president of merchandising and retail expansion, told National Jeweler the e-tailer's gemologists selected the stones from the Moyo assortment to be featured on the site, ensuring they meet the company's standards for color, clarity, and cut. 
"We chose to partner with Moyo as they offer a beautiful selection of distinctive, uniquely cut ethically sourced gemstones that resonate with our customer's desires to express their individual style and values in their ring selection," she said. 

Money confirmed they will continue to collaborate with Moyo in the future to support the program's efforts.
More on Sourcing
Sourcing
Mar 15, 2023