Blue diamond sale sets multiple records
Now called the "Blue Moon of Josephine," a blue diamond that sold for $48.5 million Wednesday set a record price for any jewel at auction. 
Geneva--World auction records were eclipsed Wednesday when a 12.03-carat fancy vivid blue diamond sold for $48.5 million.

Sold at Sotheby's Geneva auction, the diamond known as the "Blue Moon" set new records for price for any jewel at auction and price-per-carat for any diamond, at $4 million per carat. 


A Hong Kong billionaire bought the diamond and renamed it the "Blue Moon of Josephine," after his 7-year-old daughter.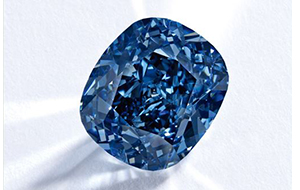 The price paid for the Blue Moon diamond broke the previous record for any diamond or gemstone at auction set by the $46.2 million sale of the "Graff Pink" at Sotheby's in November 2010. Laurence Graff bought that diamond, a 24.78-carat fancy intense pink. 

The Blue Moon was not the only diamond to make headlines this week and, interestingly, not the only one named Josephine. 

Overall, Sotheby's Nov. 11 auction totaled $139.1 million, with 83 percent sold by lot. 

An 8.24-carat fancy vivid purple-pink diamond set into a ring was purchased by an anonymous buyer for $13.9 million, and a world auction record was set for a fancy orangey-pink diamond when a 15.20-carat diamond of that hue sold for just more than $4 million. 

Another colored diamond, a 22.43-carat fancy vivid yellow diamond set into a ring, garnered $2.6 million. 
More on Auctions