India: A Global Gem and Jewelry Capital in the Making
An undisputed leader in diamond processing and silver jewelry, India aspires to replicate this success and become "Jeweler to the World."
The Gem & Jewelry (G&J) sector contributes 7% to India's GDP and employs around 5 million people.
From April 2021 to January 2022, exports of gems and jewelry at $32.40 billion registered a growth of 69.1% as compared to $19.14 billion for the same period last year, and a growth of 12.28% over the pre-COVID year 2019.

Driving the export-led growth is Colin Shah, Chairman of Gem & Jewelry Export Promotion Council (GJEPC) and his team. "I am confident that the sector will be able to achieve its target of $40 billion exports in this financial year," said Mr. Shah in an interview with me. 


In the year 2020, total global exports of the G&J sector amounted to $693.7 billion. With a share of 3.5%, India ranked 7th on the list. The Indian government has made this sector a focus area and set an ambitious target to double its share to 7% of global exports.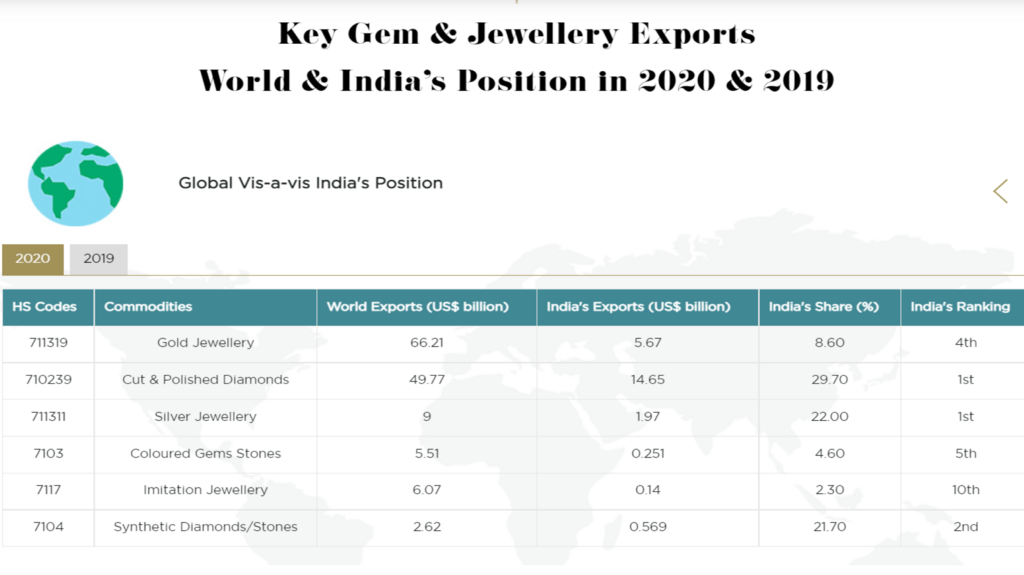 A slew of government policy initiatives and projects have the potential to catapult the Indian G&J sector into the big leagues.
Mega Common Facility Centre (CFC) with an investment of INR 700 million at the Santacruz Electronic Export Processing Zone (SEEPZ) Special Economic Zone (SEZ) in Mumbai: A Common Facility Centre pools together high-end, capital-intensive, state-of-the-art machinery and equipment. These can be used by small and medium sized manufacturing units by paying reasonable charges and reduce production costs. The mega CFC will serve as a platform for technology transfer and re-skilling of the existing artisans by providing them training on various aspects pertaining to manufacturing studded jewelry.
Rejuvenation & redevelopment of SEEPZ at an investment of INR 2 billion: SEEPZ, spread over 111 acres of land is one of the largest and oldest export processing zones. There are over 150 jewelry units employing a workforce of 50,000 people, making it the single largest cluster in the country and perhaps in the world. SEEPZ SEZ has a well-connected network of central roads, business facilitation center, central warehouse, foreign post office, off-shore banking unit, authorized dealer of foreign exchange, convention center, in-house custom clearance facility and uninterrupted power supply. "Currently the SEEPZ contributes around $3 billion to our total G&J exports annually, but with better infrastructure and technology, it has the potential to contribute $10 billion," said Mr. Shah.
India Jewelry Park Mumbai (IJPM): Mumbai has the Bharat Diamond Bourse (BDB) with 3,000 offices, SEEPZ with 200 factories, and the industrial estate in Andheri, which has another 300 factories. The industry needed a special park to consolidate all the units spread across areas like Zaveri Bazaar and Parel into a world-class infrastructure like the BDB. The IJPM is benchmarked against similar Jewelry Parks in countries like China, Turkey, Italy, Thailand, and is expected to attract investments to the tune of over $2.7 billion. Spread over 21.3 acres, the project is scheduled to be completed in 30 months. It will house more than 2,000 manufacturing units and offices and provide low-cost residential facilities for workers. It will also have training and up-skilling facilities for artisans.
Surat Diamond Bourse (SDB): In 2022, India will get its second diamond exchange, the SDB. With an area measuring 6.6 million sq. ft., it will be larger than the world's largest office building, the Pentagon. The $336.2 million project will prove to be a game changer for the Indian diamond industry. SDB is a part of Diamond Research & Mercantile (DREAM) smart city spread over 35.54 acres of land situated very close to the Surat airport. All of the 4,200 offices were sold before construction started in 2018.
E-Commerce: The government has been quick to realize the potential of e-commerce and has proposed to implement a simplified regulatory framework by June 2022 to facilitate gem and jewelry exports through the e-commerce route, ensuring that jewelers from every district in the country are able to ship their products overseas in a fast and economical manner. This is the need of the hour, as the e-commerce sales of jewelry are growing exponentially in the U.S. and other consuming markets. The broad basing of the exports through this measure have the potential to grow to $100 billion in the next 5 years.
JIO World Centre: On March 4, 2022, doors opened for the first-of-a-kind global destination that has a state-of-the-art convention facility. Owned by India's largest company, Reliance Industries Ltd; JIO World Centre is located in the Bandra Kurla Complex (BKC) and is walking distance from the world's largest bourse, BDB. GJS, India Gem & Jewelry Show, a grand B2B expo, will be the first jewelry show to be organized at this venue from April 3-6, 2022.
Note: This story was completed for publication in the special India Diamond Report newsletter prior to Russia's invasion of Ukraine and the U.S.'s subsequent ban on Russian diamonds on March 11.


More on Financials
Financials
Dec 05, 2023