These Tiaras May Have Belonged to Empress Joséphine Bonaparte
Sotheby's will auction them next month at its "London Treasures" sale.
London—Two tiaras believed to have belonged to Empress Joséphine Bonaparte are headlining Sotheby's London Treasures sale next month.
Widely known by the surname associated with her first marriage, Joséphine de Beauharnais (1763-1814) married second husband Napoléon Bonaparte (1769-1821) in 1796.
In 1804, Napoléon became emperor of France, making Joséphine the empress.
The two tiaras hitting the auction block offer important historical context to Napoléon's reign.
They are part of parures, or matching sets of jewelry, circa 1808. Sotheby's explained in a statement that they embody the Neoclassical style that was all the rage at the time.
Napoléon favored ancient Roman motifs in a bid to legitimize his rule after the French Revolution, lending it a leader's gravitas and legitimacy. Even his coronation crown featured several ancient portrait cameos.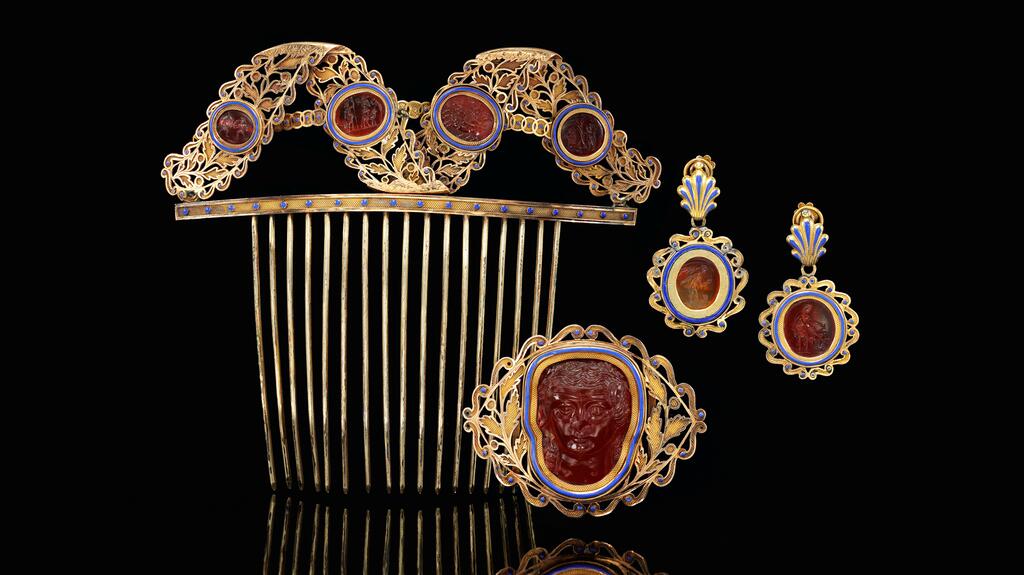 Joséphine followed suit with her clothes and jewels, referencing antiquity to align with her husband's message of stateliness. 
The two tiaras feature gemstones engraved with classical heads, some of which could be ancient, Sotheby's ventured. They were believed to lend the wearer their representative qualities, like herosim, faithfulness, and love.
 Related stories will be right here … 
They've remained in the same U.K. private collection for at least 150 years, and still have their original Parisian leather boxes.
Adding to the legitimacy of their provenance is a similar parure in the collection of the Swedish royal family that is known to have originated with Joséphine's son from her first marriage, Eugène Rose de Beauharnais, Duke of Leuchtenberg.
His daughter, Joséphine of Leuchtenberg, married future King Oscar I of Sweden in 1823, bringing several family jewels with her.
One tiara (pictured at top of article) is made of gold with blue champleve enamel, with 25 carnelian intaglios depicting male and female classical heads.
It is offered with its entire set (above), including a pair of pendant earrings, each set with a single intaglio; a hair comb; and belt ornament featuring carnelian cameo of Roman god Bacchus.
The lot is expected to fetch between £200,000 and £300,000, or approximately $270,000 to $406,000, per current exchange rates.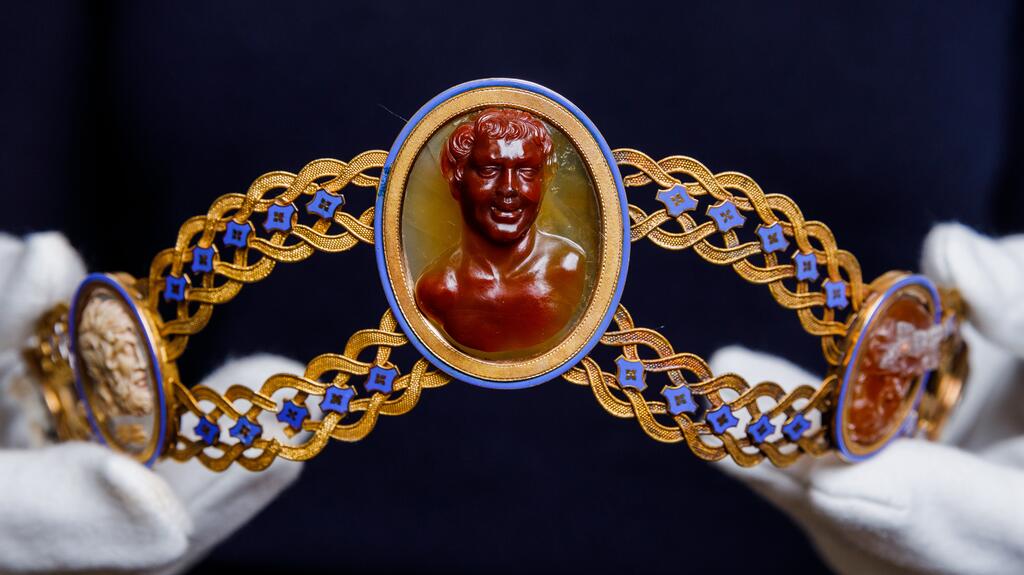 The second tiara is also rendered in gold with blue enamel and five distinct cameos. The piece and its accompanying jewels are credited to Jacques-Amboise Oliveras. 
The five oval-shaped hardstone cameos depict Zeus; Dionysus, possibly from the 18th century; Medusa; Pan; and Gaia, possibly from the 16th century. 
It comes with matching belt clasp set with an agate cameo of Medusa, likely from the late 18th century; and a belt ornament with a hardstone cameo of Zeus, likely made between 1780 and 1800. All are in their original cases.
The lot is expected to fetch between £100,000 and £200,000, or approximately $135,000 to $270,000, per current exchange rates.
Joséphine and Napoléon were connoisseurs when it came to ancient art.
Sotheby's said that gem engraving was considered a noble art in antiquity, so Napoléon continued the tradition. 
The couple had many cameos rendered in their likeness, incorporating Roman motifs like laurel leaves. Napoléon even founded a school in Paris to teach engraving technique.
Joséphine was also a patron of the arts and a lover of fashion and jewelry, spending more than 25 million francs in the latter two categories in six years. 
She owned a collection of antiquities, and was knowledgeable about various hardstones, distinguishing among them. She was also knowledgeable on engraving techniques and the mythological gods and Roman emperors and empresses depicted.
"The jewels demonstrate the finest delicate work by the finest French workshops, and, today, there are hardly any comparable pieces in the world. When fashions changed, jewelry was broken up and remodeled, making their survival a truly exceptional one." 
— Kristian Spofforth, Sotheby's
Joséphine was in the practice of selecting cameos from her collection to be transformed into jewelry and affixed to her clothing.
This all guided popular taste away from the lavish Rococo era associated with Marie Antoinette to a more simple and regal Neoclassical style.
Additional jewelry believed to belong to Joséphine and featuring cameos will also be for sale at Sotheby's London.
"These majestic jewels mounted with cameos and intaglios certainly evoke the style of the grand Empress Joséphine—her rank as wife of Napoléon Bonaparte, her impeccable taste, and her interest in the classical world," said Sotheby's London's Head of Jewelry Kristian Spofforth.
"Empress Joséphine was much more than just a collector of antiquities. By being the first to incorporate these cameos and intaglios into her dress, wearing them side by side with pearls and diamonds, she created an entire new fashion that swept Paris and the world, based on Neoclassical forms. The jewels offered here demonstrate the finest delicate work by the finest French workshops, and, today, there are hardly any comparable pieces in the world. When fashions changed, jewelry was broken up and remodeled, making their survival a truly exceptional one."
While the jewelry legacy of their marriage lives on, Joséphine and Napoléon were only married for 14 years. Their marriage was annulled in 1810 as Joséphine did not produce an heir.
According to various accounts, the two remained on amicable terms until Joséphine's death in 1814. Napoléon's second wife, Marie-Louise of Austria, produced his desired male heir, Napoléon II.
The
London Treasures sale
is scheduled for Dec. 7. 
More on Auctions
Auctions
Sep 27, 2023