GiGi Ferranti's New Collection Is Full of 'Pasta'bilities
Associate Editor Lenore Fedow and jewelry designer Gina Ferranti, two Brooklyn-bred Italian-Americans, talk family, pasta and jewelry.
I ended a phone call with designer Gina Ferranti, of GiGi Ferranti Jewelry, Tuesday night feeling as if I had just finished catching up with an old friend.

We're only jewelry-world acquaintances, but our paths run parallel.

Ferranti and I are both Italian-American women from Brooklyn, and our shared background made our conversation about her latest collection easy.

I shy away from my Brooklyn accent, truth be told, but Ferranti's voice is strong and confident, and I found the nerve to let my guard down and my vowels loose.

Ferranti's Italian heritage is woven throughout all her work, but the new "Portofino" collection takes it to the next level.

"As a designer, my inspiration is always through architecture and geometry and where they kind of blend," she said.

Her "Lucia" collection, for example, mirrors the stained-glass windows of storied Italian churches she's seen in her travels through Positano, Capri and along the Amalfi Coast.

For this new collection, she expanded her horizons beyond one type of architecture to encompass an entire town.

Inspired by the Italian Riviera, her pieces are infused with the essence of the seaside town of Portofino, though handcrafted in New York.

"Instead of just picking an element of a motif, why don't I pick a beautiful area of Italy that I can turn into more of an experience than an element?" she asked herself.

Though she hasn't ventured to that part of Italy just yet, images of the candy-colored houses dotting the crystal blue coastline invoked a luxurious, elite feeling that resonated with her.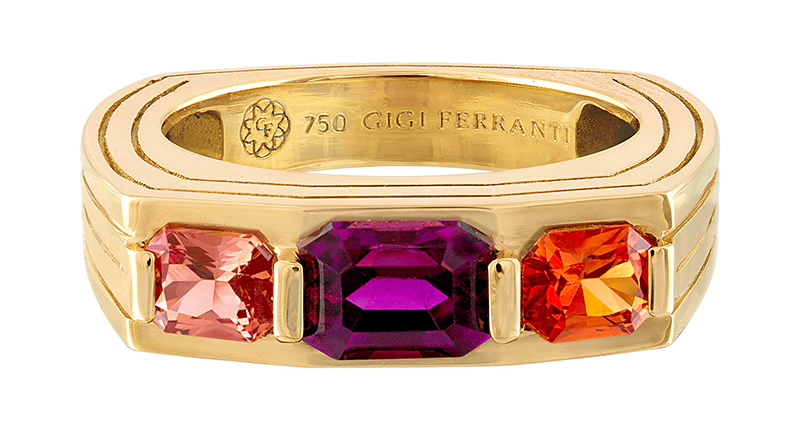 GiGi Ferranti's three-stone ring, crafted in 18-karat yellow gold, features a grape garnet in the center with orange and pink sapphires on either side ($5,800).
The strong geometric lines of the mountings and the emerald- and princess-cut stones throughout her collection, as seen in the three-stone ring above, mimic the buildings along the coast.

In several of Ferranti's Portofino pieces, the warm colors of the houses meet the cool colors of the shore, like in the hinged sapphire cuff bracelet seen below.

"I always pick Italian because it's my background. It's what I know," she said.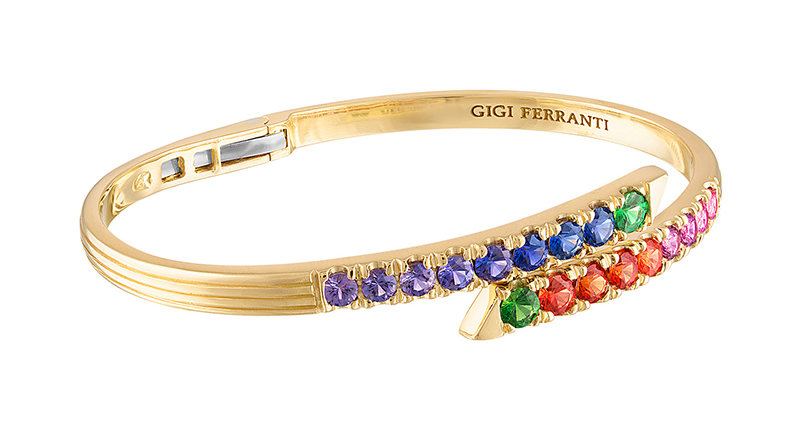 The Portofino hinged cuff bracelet in 18-karat yellow gold with multicolored sapphires and tsavorite garnets ($10,500)
Brooklyn is a small world and for Brooklyn Italians, I'd say it's even smaller.

Ferranti's family comes from Naples, as does mine, as well as Sicily. She tells me her grandparents had a house just a few blocks away from mine.

I
messaged Ferranti on Instagram the other day when a familiar face from my high school homeroom, who turned out to be her niece, was modeling her jewelry.
"Family is always a source of inspiration for me," she said. "When I first started designing, I named my first three collections after my nieces: Bianca, Gianna, and Sophia.
"I don't have to tell you, we're very close with our family. To sit at the dinner table and eat is the event of the day or the week."
Pasta is already an Italian pantry staple but in the Portofino collection, Ferranti has transformed it into a wardrobe staple.
Inspiration struck when she was looking to put her own spin on the chunky links trend.
She was sketching out a bracelet, drawing straight, barrel-like links. She angled the ends to match the rest of her angular designs.
"As I was drawing it, I said this is penne pasta!"
And so, the penne pasta link was created.
"I said to myself, do I dare name it penne?," Ferranti recalls. "And I said, I think it's so cute and whimsical and it's who I am so I'm going to name it the penne link!"
I wouldn't believe you could make pasta look glamorous if I hadn't seen it with my own two eyes.
It's fun and charming without being kitschy. You can wear your penne pasta as a pendant, as a link bracelet or as a necklace.
"I'm in love with the penne necklace," she said, when pressed to name a favorite piece.
"I just think it's really so sexy on. It falls right underneath the pit in your neck. Because the links are solid, it's heavy and just feels really good on."
Made of solid 18-karat yellow gold, each link is set with six multicolored sapphires or tsavorite garnets.
My favorite from the collection is the horn charm, an Italian take on the current evil eye charm trend.
Ferranti reimagines the classic "Cornicello," believed to
protect the wearer from the evil eye
, a notion taken quite seriously by many Italians, particularly in our shared ancestral home of Naples.
Typically made of red coral with a gold cap, Ferranti still has her grandfather's horn that would hang on his car's rearview mirror.
Her version is crafted in 18-karat yellow gold and set with orange, purple and pink princess-cut sapphires.
At 2.5 inches, it's a statement piece with a price tag of $6,200.
However, she has a smaller version in the works, set with one princess-cut stone, that will be available at a lower price point.
The charm may be her bread-and-butter going forward, said Ferranti.
With trade shows on hold for the time being, Ferranti is showing off her new collection via Zoom and FaceTime, sending her pieces by mail, and using social media.
"I don't know if it's a sign of the times or retailers paying more attention to social media because they can't go to the shows, but it's definitely been the highlight. I'm very grateful for that."
And with the money she saved by not going to the shows, she'll be moving into a new retailer in New York in the near future.
More details on that to follow soon!
For more on the "Portofino" collection, visit the GiGi Ferranti Jewelry
website
.
More on Editors
Editors
May 24, 2023