Piece of the Week: Bea Bongiasca's Colorful Diamond Ring Stack
The designer skirts tradition in both her design and color choices.
Non-traditionalists,
Bea Bongiasca
would be the perfect engagement ring designer for you.
The colorful Italian designer exudes rainbow-hued happiness in her popular enamel jewelry, her pink jewel box of a boutique in Milan, her clothing and even her manicures.
But her newest rings are her most colorful yet, combining multiple shades of enamel for a candy store-like effect.
Available now on
MatchesFashion.com
, the "Rainbow Ring" is actually a stack of two.
One is a simple diamond solitaire in 18-karat yellow gold, featuring a marquise-cut diamond. Accompanying it is Bongiasca's signature looping setting that has the audacity to wind and twirl over the diamond, turning our notions about how precious stones are presented completely on their heads.
Also in 18-karat gold, the second band features rainbow stripes of enamel. Sold as a set, the stack sells for $9,300.
Perfect on any finger, we love the idea of a bride rocking this playful pair as an engagement ring and wedding band, or even commissioning their own special piece in the same spirit and style.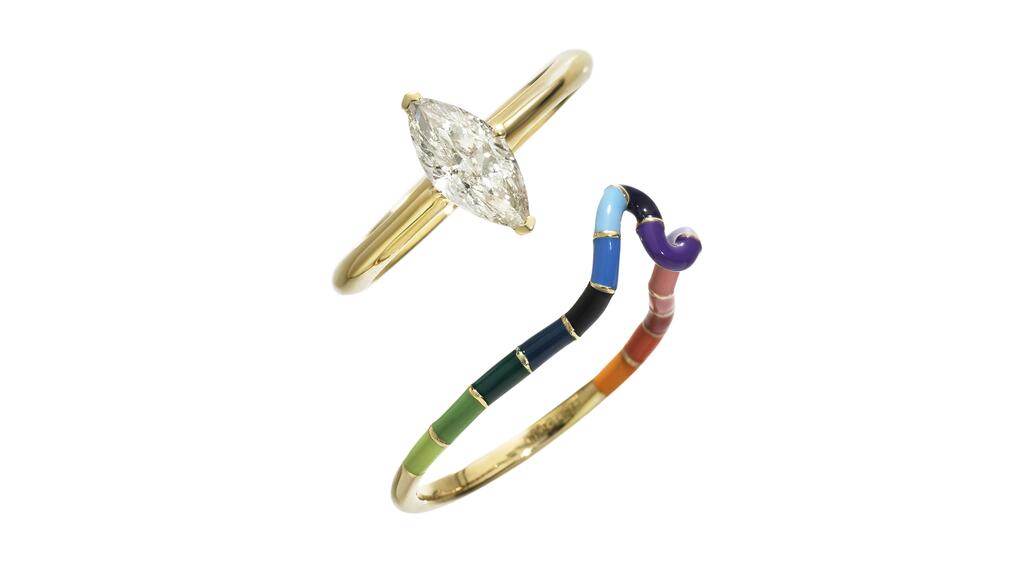 Related stories will be right here … 
More on Collections